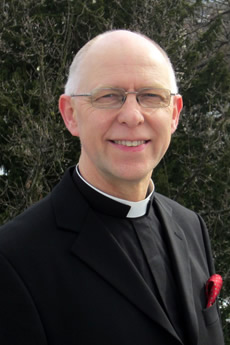 God moves in mysterious ways
Dear Friends,

One of the sunniest episodes in the story of the New Testament is the early church's post-Pentecost jamboree. God was doing wonders and signs through the apostles, all the believers were together, sharing meals, holding all things in common, and generous to those in need, "praising God and having the goodwill of all the people. And day by day the Lord added to their number those who were being saved." It sounds wonderful doesn't it?

There was just one catch. They were still having a great time in Jerusalem but yet hadn't taken the gospel to Samaria, Judea and the ends of the earth, as Jesus had told them. After Stephen's murder and martyrdom, persecution broke up the happy party, and the believers fled, scattered to the neighbouring nations to share the Good News. Which is precisely where and what they were meant to be doing in the first place.

Persecution is a terrible, evil thing, and never God's will for us, but this story shows God use even the bad things which happens to us, and bring good out of evil. Similarly, while we've exiled from our church buildings and in lockdown, out of the loneliness, suffering, bereavement and trauma and truly harrowing stories of the past three months, here and there God has brought blessing and new life. We've found many spiritually hungry people searching for faith, with thousands tuning into online services and talks, including St Paul's. Out of fear, anxiety and suffering, God has been bringing healing and blessing. God does indeed move in mysterious ways.

As for ourselves, rather than characterised by Sunday church attendance, Christian life has been different, characterised more by daily prayer and practical service. As I've phoned round, St Paul's folk have told me how they've been engaging with their fellow Christians and neighbours in a new way, forging new friendships and finding new ways to serve in our community. Which is precisely where, first and foremost, we are meant to be. God does indeed move in mysterious ways. But what of the future?

At the outset of the pandemic, Archbishop Justin challenged us all. He said, "This is a defining moment for the Church of England. Are we truly a church for all, or just the church for ourselves?" I do hope that, as lockdown eases, we will not forget the lessons of the past few months but will continue to exist to serve others. In his article in last month's Spire, Archdeacon Dave rightly predicts, I believe, that in the 'new normal' church life will look quite different: it will be '"worship in church" and "worship online."'

As St Paul's re-opens for private prayer, my hope is that we will not allow the building to confine us, but see it less as a stone fortress with crenellated parapets, and instead as a church with glass walls. Again, while it will be so good to see each other after so long, let us resist the temptation to turn in on ourselves, lest we become merely a cosy, religious club. Instead let us continue to turn outwards to the people desperately searching truth and help them to find it in Jesus Christ. Then we will see God move in mysterious and wonderful ways.

With love and prayers,

Fr Kevin.