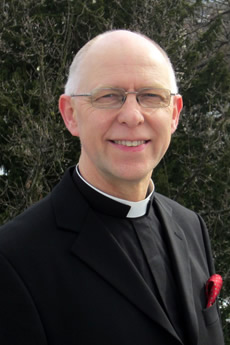 A new normal?
Dear Friends,

Over the past few months we've heard much of the phrase, the 'New Normal'. As the lockdown has gradually eased and our public freedoms have been gradually restored, I, for one, have rejoiced that we were able open St Paul's for private prayer by July, and for Sunday worship from the beginning of August; I am pleased that from the beginning of September we shall be able to celebrate the Eucharist at 12noon on Wednesdays once again, and I am glad that we are already planning how we may bring back some form of live music into our worship, later in the Autumn, even if this will, necessarily, have to be limited by the current regulations. So it would perhaps be more accurate to describe our present situation as a series of "New Normals", personally, nationally and in our church life.

My fear, however, that in greeting each new wave of normality, we may forget the lessons we have learned over the past few, often painful months. Not for nothing did CS Lewis write, "Pain insists upon being attended to. God whispers to us in our pleasures, speaks in our consciences, but shouts in our pains. It is his megaphone to rouse a deaf world." And although he was writing for a somewhat different context, his words are no less applicable to our recent situation: isolation, loneliness, at times virtual house arrest, with limited physical contact with each other.

If God speaks to us that we take heed and act, what might have he been saying to us as a church? What have we learned through our experience? I suggest the following, while doubtless there will be others you will be able to add.
Losing people and things we hold so dear, might help us appreciate them more, and less prone to taking them for granted?

While glorious, wonderful, valued and rightly loved, our building, liturgical tradition and music are not actually essential to being church.

Maybe we've become less self centred, with a reduced expectation that church must "all-fit-me- precisely".
In our loneliness and isolation, in being thrown back on to God, have we discovered his presence with us in a new way and that he can be trusted to provide for all our needs?
Although physically separated, through the ministry of the telephone, we have learned to reach out to others in our congregation, and made new friends whom we may not previously have known well at all.
More of us have been moved by a new spirit of giving generously to the work of mission and ministry here. Thank you again most warmly for that.
We have discovered new ways of communicating and connecting with people beyond the church who are desperate to hear the Good News of Jesus. They still need to hear us, so how may we keep speaking with them?
The digital world has helped us to find new ways of worship and meeting (even if some of the technology drove the Vicar to distraction at times!).
In coming together on Sundays in a new format, we have been given a new gift: with a good number commenting positively on the new freshness to our worship. How may we sustain this freshness?
You will doubtless be able to add to these.

The question is, how can we hold on to the lessons we have learned as we approach each 'New Normal', and find ways to apply them? As we begin to implement our new Mission Action Plan this autumn, delayed by the Covid pandemic, this especially will be a vital priority for us all.

With love and prayers,

Fr Kevin.