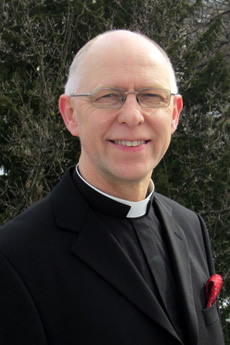 Escape to the Future?
Dear Friends,

In a Sussex shopping centre this week, I espied what appeared to be a large igloo, a fine white wire mesh dome encrusted with minute icy white lights, within which sat a white throne with purple velvet upholstery. It was beautiful, even impressive, and I stopped to marvel at the spectacle. It was empty, apparently awaiting the arrival of that seasonal imposter himself, Father Christmas, and the beginning of our annual escape into fantasy land…

Escape at the moment might seem understandable even attractive. In the past year at least, the world has become a more hostile and divided place with tensions between East and West exacerbated, not least by Russian aggression in the Crimea and recklessly malign activity not least on the streets of Salisbury's quintessentially English cathedral city. Closer to home, the news has been peppered with innumerable incidents of violence, knife crime and the horrific destruction of life and property in the Grenfell Tower fire disaster. And then, running like a leit motif or undercurrent through it all, there has been the great Brexit debate, which has divided our country, our families and communities, and which we are told, the public are heartily sick of. So, in the circumstances, escape might indeed seem understandable – even particularly attractive.

However, escape is the very opposite of the meaning of Christmas. For the message of Christmas is that in Jesus Christ, God became human, one of us. Or, to use the biblical word, Jesus is 'Emmanuel', which means 'God is with us.' God chose not to escape from his world but run towards it. He came to inhabit it, to be with us in it and share with us all our discomfort, worry, pain, anxiety and suffering. He threw himself into our world and took all the evil it could throw at him, even death itself. Then, he rose again, to give us hope by proving that even death can be transformed. We have the hope that his power can transform and restore both us and our world. Now, there's a good reason to celebrate Christmas! Jesus is the reason for the season!

Merely secular seasonal festivities won't cut the mustard. They may be cheer us up for a few days, but on January 4th the fairy tale will be over. We will be back to where we were before, except possibly poorer. However, to enjoy a real Christmas involves the joyful encounter the living presence of the risen Lord Jesus Christ. He with the hope of real change, so that our lives and our world in the New Year may be very different.

How might this happen? Simply do what Jesus did. Don't try to escape but run towards the world and its people. Just three ways:

1. Jesus came first to his own. Do the same. Make ever effort to attend at least one service over the Christmas period. Details of services are in the church magazine and on the website.

2. Jesus had a special care for the poor and he lonely. Do the same. Is there someone you could invite in for a drink or a meal? If you do this you'll find that Jesus will slip in with them.

3. Jesus loved the world and all its people. Do the same. Don't run or hide from the world. This is not a time to be 'sick of Brexit' or the world. Instead pray for our world, pray for the unity of our country, our Prime Minister (what an impossible job for anyone to have at this time!), for our government and Parliament, that God would guide these and all in authority to make the right decisions that will seek the good of all peoples on earth.

Do these three things Christmas and beyond, and you will make a difference, the world will be very different, and you will be different.

My very best wishes and prayers for a Christ-filled Christmas, and hopeful New Year.

Fr Kevin.