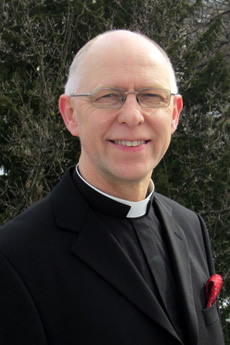 Come away…by yourselves…and rest a while
Dear Friends,

I'm late, I'm late for
A very important date.
No time to say hello, good-bye,
I'm late, I'm late, I'm late
I'm late and when I wave,
I lose the time I save.
My fuzzy ears and whiskers
Took me too much time to shave.
Many of you will recognise this bit of verse from Alice in Wonderland as the patter song of the White Rabbit, who was for ever bobbing around in a perpetual state of hurry and worry, lest he, by his delay, end up as the main ingredient of rabbit stew.

The reality is that most of us in ministry (both lay and ordained – so that's all of us!) can sometimes find ourselves doing passable imitations of the White Rabbit. In short, we can feel driven, pressured by the heavy demands placed on us by others, and by ourselves. We can too easily pack our days with our own and others' agendas. We can also fall into the trap of thinking that unless we are forever busy, driving ourselves to work harder and harder, we cannot possibly be doing the Lord's work properly and that he cannot be pleased with us. Not only may this make us spend valuable time and energy on things that are relatively unimportant, but this view is a dangerous perversion of Christian discipleship.

The truth is that God does not want us to be like this. In Mark's gospel, Jesus' disciples return from a missionary journey excited by all they had said and done and, no doubt, weary. Jesus, seeing their weariness, said:
Come away to a deserted place all by yourselves and rest a while.' For many were coming and going, and they had no leisure even to eat. And they went away in the boat to a deserted place by themselves.

Mark 6.31-2
Mark goes on to tell us how Jesus and his disciples were pursued by a crowd, hungry both for food and for Jesus. While Jesus, in his compassion, ministers to the crowd, eventually he sends even the disciples away in the boat while he dismisses the crowd and goes up a mountain to pray.

This is the Jesus way. If rest, space and prayer were vital for Jesus, then they are vital for us too. Furthermore the proper rhythm of work, rest, play and prayer in proper balance are essential for churches as they are for the lives of individual people.

I am deeply appreciative of the hard work and commitment of so many people at St Paul's, especially as we have had to face a number of unusual challenges this past year. I am therefore mindful of the need to ensure a proper rhythm of work, rest, play and prayer, which are as essential to the flourishing of our church life as they are to individual members. How might this happen?

First, the summer months of July and August are largely periods when we should allow ourselves and our church life just to tick over; to halt the busyness so we can rest, play and pray. So let's take time out to do just that.

Secondly, by the time you read this, our PCC will have spent a day away in listening and prayer, reflecting on our life together at St Paul's and reviewing our Mission Action Plan. We will have celebrated past achievements and also fine-tuned the compass: resetting the direction of travel by identifying, under God, those activities with which we should not be involved and therefore should be stopped, and those which God is calling us to invest in. We should remember that the good (however highly cherished) is the enemy of the best.

Then, whatever God call us to do, we must also prioritise, i.e. identify which goals should be pursued now and which we should postpone. Not only will this help us to ensure that we are continuing to move outwards in ministry and mission, but we will be more likely to avoid 'White Rabbit Syndrome'.

With warmest wishes and prayers for a most restful, playful and prayerful summer.

Fr Kevin.