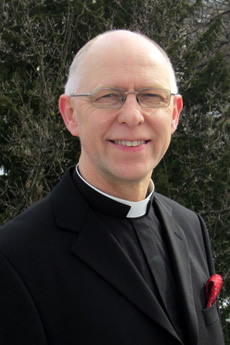 All good things around us...
Dear Friends,

This time of the year, our thoughts turn naturally to harvest. A church harvest thanksgiving can be quite hazardous for a priest: there is always the danger of skating off on a loose apple making a bid for freedom under the altar or a marrow poking the preacher in the eye! That's said, it's a glorious service. All these material things - the rich bounty of the harvest - are indeed good gifts and sent from heaven above, and we should be grateful for them, as well as being ready to share God's good gifts we enjoy with others.

But do we ever stop to think of the Good News of Jesus as one of God's good gifts?

Jesus, in his parables, likens the word of the Gospel, the Good News of the Kingdom to seed: seed which is scattered, that produces a rich harvest. Such seed needs to be watered, nurtured and cultivated. But how often do we stop to consider that, as Christian believers, we ourselves are part of God's fruitful harvest, just because someone else sowed the seed of the Gospel in us, in our hearts and minds, and then either they or others, helped to water, nurture and cultivate our faith in Jesus, to help bring the harvest of a Christian believer to fruition?

There comes a point, however, when we have to accept that the responsibility for growing in our faith actually rests with us. True, there are others on hand to help water, nurture and cultivate our growth: clergy, Readers and the like; but in the end we ourselves have to make an effort if we are to grow, as God intends us to.

There are many ways in which we can help our faith to grow: by taking time out to pray and listen to God speaking to us in the Bible and doing what he says; by regular attendance at the Eucharist; by sharing with and learning from other believers and from courses, talks and retreats. All these are, broadly, what are called 'Means of Grace', ways in which God is able to nurture us and help us to grow in faith.

But are we, are you, using these 'means of grace' to best effect?

This autumn, there are a number of opportunities at St Paul's to help each of us grow.

On Thursday evenings in October we will be running a short, four-week course called Faith Pictures. This is an interactive course run in a group and has proved to be a very helpful aid in helping Christians explore their own faith. It will be led by lay and ordained members of our ministry team.

Next, the final Sunday in October we shall keep as Bible Sunday, and provide opportunities to explore how we may explore and understand the bible and how each of us may, practically, make it a part of our everyday lives.

Then, on a Saturday in late November we shall be running an introductory session on the Gospel of Mark, from which many of our gospel readings will be drawn in the next year from Advent in 2017-18. Those who have attended similar sessions in the past have found it most helpful.

A final thought. Some of us will think nothing of committing time and money to an evening class for a term or more in order to learn French or Spanish, or to hone an artistic skill. But however good and fun these may be, the skills gained will benefit us only for the duration of our earthly life. But how many of us are prepared to commit time to a short course or even just a morning, in order to learn and grow in our faith, to get to know Jesus better, to discover more deeply what it means to be a child of God – which will last into eternity?

With love and prayers,

Fr Kevin.