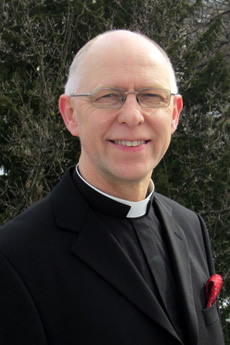 Five @ Five
Dear Friends,

In my Easter sermon last month I challenged us all to consider what the Resurrection of Jesus Christ is and means, and also what exactly is our individual understanding of life after death.

I said that evidence for Jesus' Resurrection begins with the Empty Tomb and his physical Appearances to different people at different times, indeed to as many as 500 people at the same time. I added that further evidence for Jesus' Resurrection is found in the witness of countless millions throughout the ages since, who, although they haven't physically seen the risen Christ, claim to have met him: they have taken the evidence of Easter on trust, reached out to Jesus and then discovered with surprise and joy that not only is he is alive, but he may be known and encountered personally and has transformed their lives.

There are countless thousands and hundreds of thousands who would be thrilled to meet the Risen Christ if only they had the opportunity, and whom Jesus would be also be thrilled to meet. But it also so happens that God in Christ has chosen to make himself dependent upon the church in this endeavour, and in particular, upon our personal prayers.

Sunday School apart, I was a church-goer since the age of eight when I joined the local church choir. But it was not until I was a student in London at the age of nineteen that I came to a personal faith in Jesus Christ when I encountered him personally and my life changed. But I later discovered that it was Richard one of my best school friends, whom I had known since the age of eleven, who had been praying faithfully for me all that time. Richard did so, out of love for Jesus Christ and love for me.

What a best friend he was! Will we, can we do the same for others we know, that they too might come to know Jesus?

In the period between Ascension Day (25th May) and Pentecost (4th June) the church has traditionally followed the example of the early apostles by keeping this time as a period of prayer for mission, praying 'Thy Kingdom Come'.

This year, Christians across the country are being encouraged to pray for five people they know at 5pm each day, that they may not only know God's blessing but come to a personal faith in and relationship with Jesus Christ.

Further details of other activities planned for this eleven day period of a 'Wave of Prayer' during Ascensiontide will be published shortly. But please may I encourage each and every one of us to use this time to pray at Five@Five pm for those we know, be they family members, neighbours, acquaintances, friends; people at work or those we chat to on the bus, that they may come to know Jesus.

In April, I concluded my Easter pastoral letter as follows: "For if we truly seek to follow the risen Jesus today, he will make us his agents, missionaries within our community of God's gratuitous love and grace, and his forgiveness. " I would add that this begins with him making us his faithful pray–ers.

I cannot think of any greater privilege. Can you?

A very, joyful Ascensiontide to you all as together we pray 'Thy Kingdom Come'

With love and prayers,

Fr Kevin.