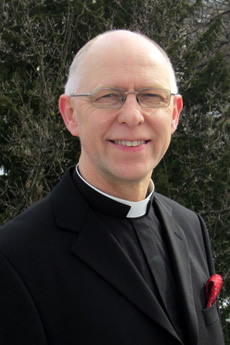 "Confess your sins to one another, that you may be healed."
Dear Friends,

Lent is a time for taking stock. Ash Wednesday faces us with the fact of our own sinfulness and mortality, as we receive the sign of the cross in ash with the words; 'Remember that you are dust and to dust you shall return; turn away from sin and turn to Christ'. But the whole point of turning from sin is that, at the same time, God's forgiveness is readily and immediately available. Amazing grace, eh?!

Some of us find if hard, however, to receive God's forgiveness, and even harder to forgive ourselves. Others of us may exaggerate personal faults which are not grievous sins at all, while still others skate over shortcomings which they need to address. The church from earliest times has recognised that most of us need some objective help at times and has made provision for this through the Sacrament of Reconciliation, perhaps better known as 'Confession'. Confession has too often been neglected through ignorance, fear, prejudice, or a mixture of all three. Just the mere mention of it often conjures up all kinds of misunderstandings, mainly fuelled by film and TV, especially 'Father Brown'! So what is it?

Put simply, the Sacrament of Reconciliation is confession by a penitent to God, in the presence of a priest. It is not confession to a priest. The priest simply overhears what is said, is available to offer advice and encouragement, and has the joy of pronouncing God's forgiveness or absolution. The priest may suggest a penance (which is usually some small task such as reading, recitation of a prayer or psalm, or, if our sin has offended another, may included some form of restitution). The point of it all is to achieve reconciliation and peace between ourselves and God and others. I remember making my first confession and the incredible feeling of release and freedom which followed. It was like walking on air.

Some popular objections:

| | | |
| --- | --- | --- |
| | • | It's not in the Bible. Yes, it is. James in his letter, urges everyone to 'confess your sins to each other so that you may be healed'. The early church required a penitent to make individual public confession, prior to restoration to church fellowship. Later, because it was felt some sins might be too disturbing for others to hear, confessions were heard privately by a priest. They took human sin that seriously. Do we? |
| | • | I'd be embarrassed? Possibly. I usually am. But there's no need to be. Why is it most of us invariably find it more difficult to open up to a fellow sinner, than to a Holy God? Maybe its our pride? |
| | • | Wouldn't the priest be embarrassed? No. He or she has probably heard it all before. |
| | • | Isn't this only a Roman Catholic practice? No. The 1662 Book of Common Prayer described absolution as a sacrament in the Holy Communion Service, and private confession is advocated in the Order for the Visitation of the Sick, which also speaks of God's authority to pronounce absolution committed to the priest. It also has legal warrant in Canon B29 and also Canon 113 of 1609. Although often erroneously thought as 'High Church', evangelicals use it too. |
Is it mandatory? No. The Church of England's position has always been, 'All may, some should, none must.' It is for the individual to decide. Importantly, the priest may never reveal whatever is said in confession. In practice, I deliberately forget what I have heard. After all, God has forgiven and forgotten it!. This 'Seal of the Confessional' is absolute.

I will be available in church to hear confessions at advertised times. Or you are welcome to make an appointment. It is offered simply as one means of grace, along with the Eucharist, our Lent Course and Bible study material, to help us grow as people, and grow into the fullness of maturity in Christ.

With every blessing for a grace-filled and joyful Lent!

Fr Kevin.