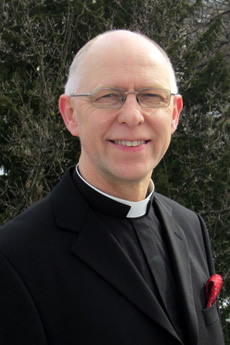 And make my sacrifice complete…
Dear Friends,

One of my most vivid childhood memories is listening to my grandfather tell of his experiences as a young soldier of eighteen in the First World War, stories told without triumphalism or drama, but in such an ordinary, matter of fact way that the horror of war could not fail to make an impact upon his young audience. Having fought, as an infantryman, in the muddy, lice infested trenches he was wounded, hospitalised and assigned to guarding prisoners of war, and it may be that if he hadn't be so assigned but sent back to the front, I wouldn't be writing this now. 11am on the 11th of this month is the 100th anniversary of the moment when the guns fell silent. That conflict, and others since, have lost none of their poignancy. Remembrance Day, for me, first is a necessary reminder of the awfulness of war - and, I pray will sound an annual deterrent to the repetition of such appalling atrocities - of the horrific barbarism perpetrated by evil and misguided men upon innocent victims. It is, secondly and foremost, a commemoration of the millions who counted the cost, made the Great Sacrifice, giving heir lives for freedom, for their comrades, their communities and loved ones back home.

Service and sacrifice are major Christian themes in November. On the first of the month we recall the Saints, the shining stars of Christian history, many of whom not only served but also out of love for Jesus and for others, counted the cost, suffered and made the Great Sacrifice as martyrs for Jesus Christ, who himself laid down his life for us. Indeed, for Christians, Christ's life and death are the pattern for authentic Christian discipleship.

Service and sacrifice are not popular themes nowadays, are they? By contrast, am I not influenced by the prevailing culture around me – the credit culture of 'have now pay later', the consumer culture which insists on 'my right' to choose: to have whatever I want, how and where I want it, with the least effort, inconvenience, or cost to myself? Such freedom to choose appears sometimes, to assume almost a divine right to have and demand, whatever and whenever we wish. It's an insidious belief, inherently self-centred, and potentially selfish. And let us not think that we, as Christians, are necessarily immune from such thinking. For whenever we hear ourselves saying 'my church' or, 'my service', or even, 'my pew' and when I am not willing to budge, or put myself out for the sake of others, the warning bells should ring.

One of the paradoxes of being a Christian is that while God in his love generously gives us everything, responding to his love will cost us everything. Why?

On the last Sunday of the month we celebrate the Feast of Christ the King. And while we, on that day, rejoice that Christ is enthroned on high and will return in glory at his Second Coming we should remember that for Him there was no short cut to His Crown. Rather, the route to the Crown was the Cross. For Jesus, his joy lay in obeying his Heavenly Father, serving others, even by counting the cost and laying down his life for them. If this is true for him, then its true for us too. We cannot have the Crown without the Cross. There will be times when we are called upon to make sacrifices, but there is immense joy in doing so too. It is a joy to serve, to be part of something larger than ourselves and for the greater good, out of love for Jesus and His Kingdom.

The Feast of Christ the King happens to be also our Stewardship Sunday, a time when we joyfully reflect on the good things God has given us,: our health, our wealth, our time and talents; a time when we count the cost and reconsecrate ourselves to Him through grateful and joyful service to his church out of love for him. How is God asking me to respond to his love for me?

So I do pray that each of us will be filled with the knowledge of God's own love for each of us, so that we may be able to say with Charles Wesley:

Ready for all thy perfect will,
My acts of faith and love complete;
Till death thy endless mercies seal,
And make my sacrifice complete.

There can be no greater privilege.

With love and prayers,
Fr Kevin.